No School Friday, February 4th. AMI Day

No school Thursday. Call system does not seem to be working. Please share cancellation info.

No School Thursday, February 3rd. AMI Day. Be safe!

No School Wednesday, February 2nd. This will be an AMI day. Assigned work will be turned in when students return. Teachers will be available from 10am-12pm on Wednesday. Teacher emails can be found at skylineschools.net under directory. Be safe!

Skyline School District is seeking qualified candidates in the following areas to join our team! HS/MS Music Director 9-12 Mathematics Potential coaching/activities opportunities with teaching contract Skyline is a rural school located north of Urbana, MO with quick access to Springfield, Lake of the Ozarks, and several public outdoor recreation areas. Skyline runs a four day school week Tuesday through Friday. The district has a rich tradition of excellence academically and extra curricular activities, including 3 National Blue Ribbons, several state titles in various sports, as well as a robust and highly competitive array of activities. If interested, please contact or send your resume, cover letter, and references to our High School Principal Mr. Koele at
jkoele@skylineschools.net
Please Share!!

DCTC students will still be in session on Monday unless otherwise notified by Buffalo School District.

No School Monday, January 24th due to excessive sickness. This will be an AMI day. Instructions will be provided by the teachers. Also, please do not send students to school who have a fever or who are not feeling well. Thank you!

Skyline Parents: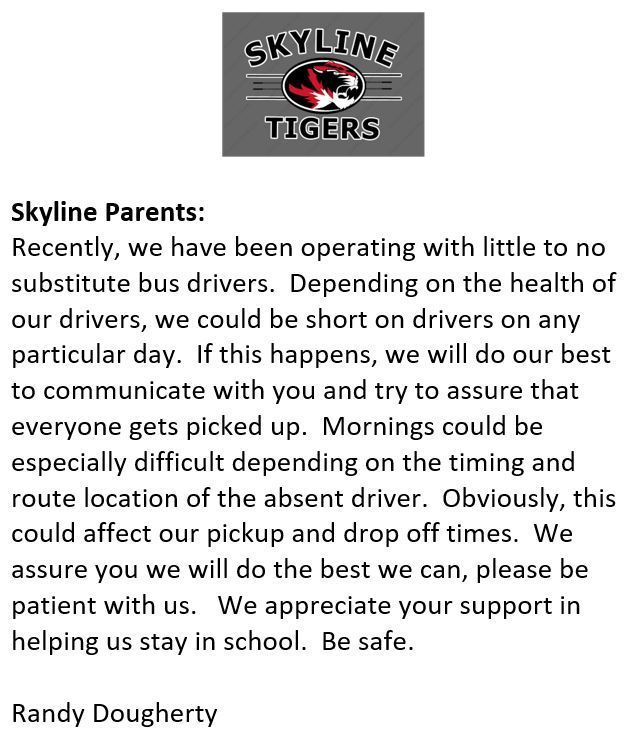 DCTC Students: Due to Buffalo shutting down Thursday and Friday you do not need to come to the High School until 4th hour. Reminder to all: We are IN session on Monday for our snow makeup day.
SRO Appreciation Week! Officer Jim cheering with the Student Section!!

Reminder for DCTC students - no classes on Monday 1/17 observance of Martin Luther Kind Jr. Day

School Resource Officer Appreciation Week! Thank you Officer Jim Cihy for the support you provide our school, staff and students! 👍🚔. We appreciate you!

Skyline Tournament Update: With snow predicted for Saturday, we are going to move some games up in our tournament and try to get things finished by Friday evening. Here is the plan: ----- THURSDAY (tomorrow) We will play the two 5th place (consolation) games early, before playing the already-scheduled boys' semifinal games. We will start at 4 with the consolation games (girls, then boys), which means that the boys' semifinals will now be played one hour later than originally planned: 4 pm (girls' consolation game) - Warsaw vs Stoutland 5:30 pm (boys' consolation game) - Stoutland vs Wheatland 7 pm - (boys' semifinal) Skyline vs Weaubleau 8:30 pm - (boys' semifinal) Macks Creek vs Leeton ----- FRIDAY We will play both 3rd place games (girls, then boys) starting at 4 pm, and both championship games (girls, then boys) starting at 7 pm: 4 pm - (girls 3rd place ) Weaubleau vs Fair Grove 5:30 pm - (boys 3rd place) Teams TBA 7 pm - (girls championship) - Skyline vs Leeton 8:30 pm - (boys championship) Teams TBA ----- I am attaching updated brackets. I believe these updated brackets have correct dates/times for all the remaining games.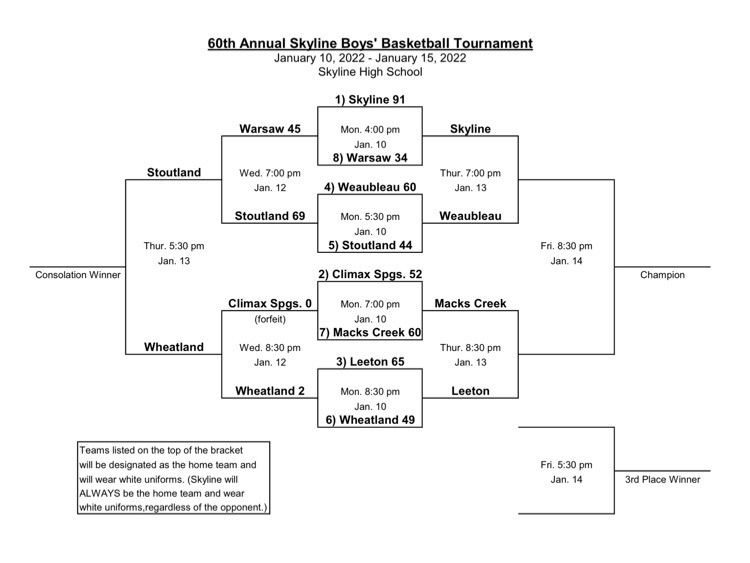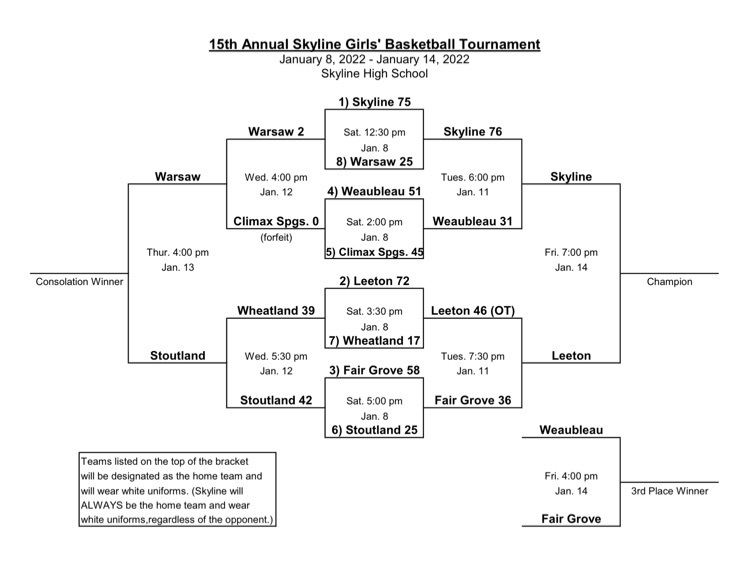 The first snow makeup day has been scheduled for Monday, January 24th. The second make up date will be announced at a later date.

No School- Friday, January 7th.

No School Today, Thursday, Jan 6th.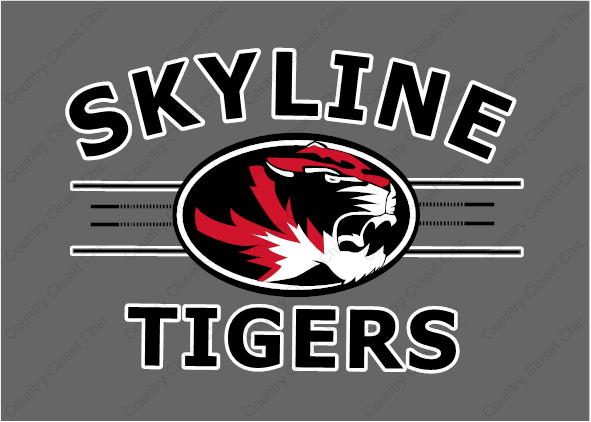 HS boys' basketball at Lincoln…. Varsity: Skyline 63-Lincoln 42 JV: Skyline 58-Lincoln 24 ————— JH boys' basketball at home…. 8th/A: Clever 47-Skyline 42 7th/B: Clever 37-Skyline 31

HS basketball at the OCHC Shootout at Weaubleau High School…. JV girls: Skyline 56-Russellville 8 JV boys: Weaubleau 54-Skyline 49 Varsity girls: Skyline 61-Russellville 35 Varsity boys: Skyline 70-Greenwood 67

Congrats to our ELKS National Hoop Shot participants! Including 1st place finishers Presley Henderson, Roma Phillips, Tanner Pinkley, Chace Aker, and Parker Owen